1. From Dr Claire Wilson ,Consultant Audiologist
The League of Friends purchased Visual Re-enforcement Audiometry Video screens for testing the hearing of young children and those with complex needs earlier this year
These screens have greatly improved the service the paediatric audiology team across Hywel Dda can offer and has enabled us to obtain behavioural hearing thresholds on children who we would have been previously unable to test.
This new equipment has made a real difference to our service, thank you very much.
2.  From: Antony Howarth, Consultant ENT Surgeon
The League of Friends kindly provided funds for the purchase of 2 video otoscopes for use in the ENT department. This enables images of the inside of the ear to be shown on a computer screen and discussed with the patient and relatives, giving them a view of something that would previously only have been seen by the health professional. Since using this equipment I have found that patients have a much greater understanding of their condition and the required treatment, and they really appreciate seeing what is going on. Children in particular are fascinated to see their own ear drum. The video otoscope has now become part of our regular practice, and I am extremely grateful to the League of Friends for funding it.
3. From Lisa Jones, Deputy Superintendent Radiology Department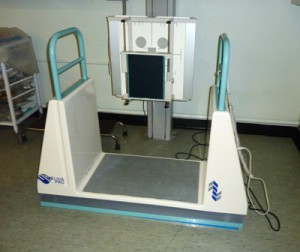 The Radiology staff at Glangwili Hospital would like to extend a very big thank you to all members of the Hospital League of Friends for your support in funding our 'Simple Up' electronic patient step. This has now been delivered and we have been using it very successfully for the past two weeks.
The 'simple up' has already shown huge benefits to patients with mobility problems providing a safe means of raising them into the position that we require to enable good quality imaging. This new piece of equipment is being utilised for all patient ages and conditions but is particularly beneficial to the ageing population in our community. Many patients who have used  the 'simple up' have commented on how much it has improved the examination for them and how much they feel safer. In addition to the obvious benefits for the Radiographers in that they no longer have to bend as much to image the patients and as such had improved their working conditions.
We are all very excited and pleased with the 'simple up' and take great pleasure in telling our patients that the equipment was provided by the great generosity of the League of Friends.
4. New Laser equipment for ENT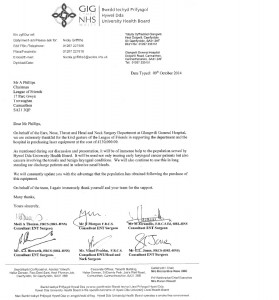 Delighted surgeons at Glangwili Hospital have written to express their thanks for our support in purchasing a brand new-state-of-the art laser to treat patients with ear, nose and throat (ENT) conditiions.
5. Endoscope Surestore System.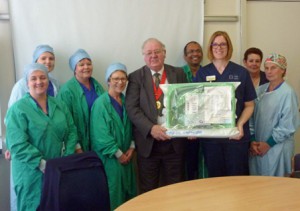 The League of Friends of Glangwili Hospital have financed the purchase of an Endoscope Surestore System for the Sterile Services Department who work in conjunction with the Endoscopy Unit.
The Importance and benefit of this equipment is outlined in the following testimonial received from  Victoria Coppack, Endoscopy Sister:
The Surestore system is a system which vacuum packs endoscopes which have been reprocessed ready for patient use. The Surestore system has been tested and validated to allow endoscopes to be packaged for immediate use within a 30 day period. The purchase of this system has allowed endoscopy to reduce the time that emergency patients are awaiting treatment in endoscopy, main theatres and intensive care. The packaged endoscopes are now ready for immediate use whenever an emergency should arise. Not only has this system improved provision of emergency care but it has also reduced the workload ffor decontamination staff and reduced the handling of the endoscope which in turn reduces the risk of damage to the endoscope and repair costs.
We are extremely grateful to the hospital League of Friends for financing the purchase of this equipment.
Signed,
Victoria Coppack,
Endoscopy Sister